Ninigret Park's History and Happenings
Just west of the famous Charlestown Town Beach and north of East Beach sits a hidden gem that Rhode Islanders might want to keep to themselves. While the ocean gets all of the glory, there something to be said for the kettle ponds that line Washington County, including Ninigret Pond, the largest saltwater pond in southern Rhode Island.
Ninigret Pond sits within Ninigret Park, a 227-acre green space with a full day's worth of activities available throughout the summer, and even into the spring and fall. The park also hosts some high-end events each and every year, should you want to experience some local arts and culture.
Those who are looking at property in Charlestown should know that there's more to recreation in the area than the extensive beaches on the ocean, as this vast park provides an escape from the crowds and something for locals to call their own.
A History of Ninigret Park
With so much history throughout this part of the country, it might surprise you to learn that Ninigret Park isn't all that old. That, however, doesn't mean that is lack a historical identity all its own.
The area that now makes up a substantial portion of the park was formerly Atlantic Airport, until 1942 when it became Charlestown Naval Auxiliary Field, a primary training location during World War Two. Many Naval pilots got their training there, including President George H.W. Bush. The naval station remained in operation until 1974, when it was no longer needed and ceased operations. Although there were discussions of building a nuclear power plant on the site in the late 1970s, this didn't come to fruition, and instead, the area became part of the sweeping Ninigret National Wildlife Refuge. In the 1980s and 90s, the airport hangars were finally removed, and the runways were torn up, being replaced by plants and grass. At the same time, however, you can still see the footprint of the runways on current aerial photographs.
There is now a memorial site at the park commemorating the 62 navy members who lost their lives at the base during its time in operation.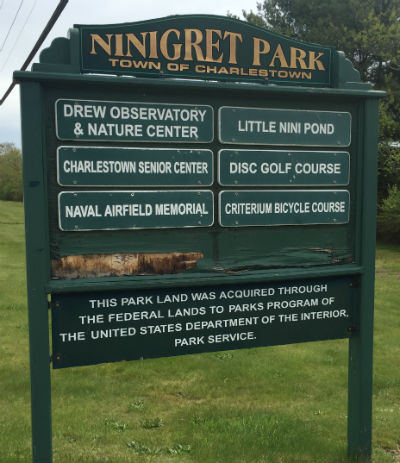 Outdoor Activities at Ninigret Park
You'll never run out of things to do when spending the day at Ninigret Park because it has something for everyone. If you've brought your bikes along to the park, you'll be happy to know there is a cycling track on the old navy base that is open to the public. The course is almost a mile in length and is also open to walkers, joggers, and rollerbladers when it's not in use for an event. There are hiking opportunities throughout the park, as well, many of which are accessible for the entire family.
Of course, one of the favorite pastimes in Rhode Island is fishing and not to worry, as you can quickly take a boat or find a piece of shoreline on Ninigret Pond and get your line in the water. There is also a smaller pond in the middle of the park that is reserved for swimming. It has a beach, and there is a lifeguard on duty during the summer, alleviating some of the worries for parents.
Want to spend the entire day at the park? You'll be happy to know that there is a picnic and grilling area on-site, so you can pack a cooler with your favorite foods and won't have to give up your parking spot at lunchtime. You can bring your dog as well, since there is a dedicated dog park area that is the perfect place for your furry friends to run off some energy.
If you're looking for a more active day, you can spend some time on one of the eight tennis courts, the baseball diamond, the basketball courts, or the disc golf course. There is also a playground for the kids if you just want to relax and let them play.
Ninigret Park's Festivals and Events
As with many large spaces in the area, Ninigret Park hosts some significant events every year. There is a space specially designated for festivals, concerts, and events, ensuring organizers have everything they require for things to go off without a hitch.
The Rhythm & Roots Music and Dance Festival has been a Labor Day tradition in Charlestown for over two decades, as 2018 marks the 21st time it has filled up Ninigret Park with thousands of music lovers from across the United States and Canada. This four-day festival brings in some pretty big acts and even has a camping area, so you don't have to leave the park between days. There are multiple stages set up, in addition to food vendors, a beer garden, and showers, and those who attend the event usually end up coming back year after year.
The Annual Charlestown Seafood Festival is heading into its 34th year and is one of the area's most looked-forward-to events. The festival, as you might have guessed, centers around seafood, including the best chowders, lobster, clams, and fish and chips Rhode Island has to offer, but there is a lot more going on here than just food. The event, which takes place at the beginning of August, also features a car show, midway rides, bungee jumping, kayaking, raffles, fireworks, and concerts, making it well worth checking out, even if you don't like seafood. Camping packages are also available for this one, although there is limited space.
The Frosty Drew Observatory & Sky Theater
With so much going on at the park, you probably wouldn't expect there to be a space observatory, but you would be wrong.
The Frosty Drew Nature Center and Observatory features an outdoor nature center and garden, which is surrounded by trees and has benches, and a domed observatory with a high-powered telescope and viewing platform that allows guests to see about 64,000 different objects in space. Due to the remoteness of southern Rhode Island, the skies in this part of the country are the darkest anywhere between New York and Boston. Therefore, the observatory is a favorite among astronomers because they can usually get a good view.
The John G. Drew Sky Theatre is attached to the nature center and features a screen that is linked to the telescope in the observatory. This link allows scientists and other interested parties to sit back and study or enjoy astronomical events without needing direct access to the telescope.
Fitting into South County
When you first move to the Charlestown area, getting to know some of the top local spots is very important because it helps you to fit into the community as a whole. Ninigret Park is one of those locations because it is where those who live here go when they want to avoid overwhelming crowds on the ocean.
That's not to say Ninigret Park isn't popular, because it definitely draws crowds, but it's a different atmosphere and is large enough that you'll have some space to yourself, which is probably one of the reasons why you're considering buying a home in South County in the first place.
Published March 28, 2018 in
Exploring South County