The Granite Theatre: Big City Performances in Westerly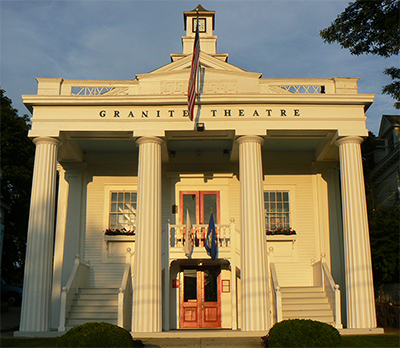 Westerly, Rhode Island is perhaps one of the last places in the country that you'd expect to find Broadway-level productions, but the Granite Theatre provides a first-class venue for performances of some of the country's most famous plays and musicals.
A season at the Granite Theatre generally runs between early spring right until Christmas and brings popular shows that you've probably heard of running on Broadway to Westerly's Granite Street and performed by The Renaissance City Theatre, Inc.
Just because you're choosing to relocate to a town of about 23,000 people doesn't mean you have to give up on the arts, culture and entertainment that you'd find in larger centers, as the Granite Theatre provides all this, but with a local twist.
The History of the Granite Theatre
The site that now hosts the Granite Theatre has deep roots in the community, as The Christian Chapel in Westerly was first formed there in 1843. The historic site was then purchased by James Ells and Aaron Piece, who arranged for a brand new chapel to be constructed by 1849.
The church was later renovated, and a basement was added, but the longstanding building was heavily damaged by a hurricane in 1938, and most of it had to be rebuilt. Since the 1938 reconstruction, however, the building has mostly remained the same and is an iconic structure in downtown Westerly.
In 2000, the building was purchased by members of the Kimball Foundation, and heavily renovated to add air conditioning, new seating, and modern carpeting. These renovations made the high-quality shows that are held at the venue today possible, and the Kimball Foundation still accepts donations to continue to improve the quality of the theater experience in Westerly.
Local Auditions
Despite the fact that most of the plays and musicals put on by the Granite Theatre originally ran on Broadway, and often have won Tony awards, local actors and singers are regularly invited to audition. In fact, most performances use local talent from The Renaissance City Theatre, and open auditions are held a few months before opening night to fill in the gaps.
No appointment is necessary to try out, as all you have to do is show up on the audition date with a current photo. You'll be paid for your performance if you make it into the cast, and you'll never forget the time you were able to take part in a Broadway musical in your hometown.
Past Performances
Significant performances have come to the Granite Theatre over the years, including Steel Magnolias, Shakespeare in Hollywood, South Pacific, Dirty Rotten Scoundrels, Jesus Christ Superstar, and Calendar Girls. There are usually special performances around the Christmas season, as well, including A Christmas Carol, A Christmas Survival Guide, and A Very Granite Christmas, which was a unique musical put on by four local performers.
These productions are performed in various locations around the United States throughout the year, so it's nice to see them coming to South County annually, especially since they involve the local community so heavily.
The 2018 Season
The current season is already underway, as Dial M For Murder was at the theater between Match 23 and April 8 and David Auburn's Proof started in late April and runs into the middle of May.
As for upcoming performances, The Ladies Foursome will run from June 1 to June 17. This play is a follow-up to a 2016 show called The Foursome and involves four ladies telling stories on a golf course following the death of their friend. The piece is funny and heartwarming, showing the real value of friendship.
A Comedy of Tenors takes place between June 29 and July 22 and is a comedy focusing on four opera singers and their wives as they prepare for a performance in 1930s Paris.
The Prisoner of Second Avenue is about a man who loses his job in Manhattan, and the events that follow lead to a nervous breakdown. This comedy is at the theater from August 3 to August 26.
A Murder is Announced takes place from September 7 and September 30, and is a murder-mystery play based on a novel by Agatha Christie.
Bell, Book and Candle has performances between October 12 and October 28 and, in keeping with the Halloween theme at that time of the year, is about a witch who puts a spell on a man and he, in turn, falls in love with her.
Annie, the classic musical about an orphaned girl that has been portrayed in theaters around the country and on film, runs from November 23 until December 23.
Make sure you check out the Granite Theatre's website for a list of performance times and get your tickets early to avoid disappointment.
Make an Evening of It
The Granite Theatre provides the outstanding opportunity to enjoy a night out without having to leave town. Restaurants within walking distance of the theater include PizzaPlace, Bridge Restaurant & Bar, and Koi Japanese Cuisine. If you want to head out after the show, the Malted Barley has craft beer and live music.
As you can see, it is possible to experience some big city entertainment while living in Westerly and in fact, it might even be more enjoyable than in a larger center because you won't have to fight traffic, pay outrageous ticket prices, and make restaurant reservations months in advance. Living in Westerly, Rhode Island means having numerous entertainment options right on your doorstep, so check it out when looking for real estate in Rhode Island.
Published May 2, 2018 in
Exploring South County