The University of Rhode Island's Well-Known Alumni
With over 18,000 students and recognition as a tier 1 academic school in the United States, the University of Rhode Island certainly has a lot going for it. In addition to being a prestigious educational institution with 80 undergraduate and 49 graduate areas of study, URI has an outstanding athletics department with basketball, football, and soccer teams, just to name a few.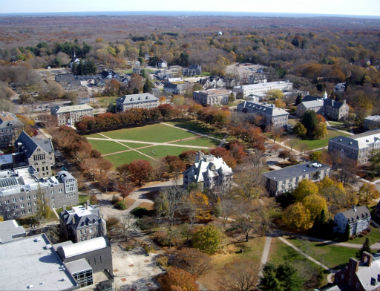 A number of well-known individuals have graduated from or attended the University of Rhode Island over the years, as the list of students includes professional athletes, worldwide business leaders, important political figures, and television and entertainment stars.
As we will see, the University of Rhode Island is a gem of a school that combines all the benefits of a major university, while providing its attendees with a taste of small-town living in the village of Kingston.
Athlete Alumni
Professional soccer player Geoff Cameron attended URI in 2006 and 2007, being named the Atlantic 10 Conference's midfielder of the year in his senior season. He has gone on to play in the MLS for the Houston Dynamo and Stoke City of the Premier League. He is also a member of the United States national team, making 55 appearances since 2010.
Steve Furness was an American football player who was part of the vaunted Steel Curtain defense of the 1970s while playing for the Pittsburgh Steelers, where he won four Super Bowls. Furness graduated from URI in 1972 and was named as one of the 50 Greatest Rhode Island Sports Figures by Sports Illustrated.
Lamar Odom is perhaps better known for his off-the-court role as a reality television star nowadays, but he was once the Atlantic 10 Rookie of the Year while playing for the University of Rhode Island in 1999. Later that year, he was drafted fourth overall by the Los Angeles Clippers and would go on to win two NBA championships with the Los Angeles Lakers.
While he didn't attend the University of Rhode Island as a student, Frank Keaney coached the men's basketball team for 28 years and is responsible for inventing the run-and-shoot style of basketball and the fast break. Keaney is a member of the Basketball Hall of Fame and the university named the Frank W. Keaney Gymnasium-Armory after him.
Alumni in the Business World
Robert Crandall was born in nearby Westerly in 1935 and attended the University of Rhode Island before becoming the president and chairman of American Airlines. Crandall is recognized as an innovator, introducing frequent-flyer miles and keeping his airline afloat with unique cost-cutting methods through some rough patches for the aviation industry as a whole.
Nancy McKinstry holds a bachelor's degree in economics from URI, in addition to an honorary Doctor of Laws degree. She is the current CEO of Wolters Kluwer, an information services company, and is recognized as one of the most influential women in the business world. She is also on the Advisory Board for the University of Rhode Island.
Film and Entertainment
Before winning America's Got Talent and headlining his own show at his own theater in Las Vegas, Mat Franco attended the University of Rhode Island and earned a degree in Business Administration while minoring in Communication Studies. In 2017, the city of Las Vegas officially named July 10th as Mat Franco Day, so you could say he has officially made it.
J. T. Walsh was a well-known actor in the 1990s, appearing in films like A Few Good Men, Outbreak, Hoffa, Nixon, Backdraft, and Sling Blade. Walsh attended the University of Rhode Island for a time, starring in numerous theater productions at the school along the way. Unfortunately, Walsh died of a heart attack in 1998, just as his career was reaching its peak.
Alumni on the News
Christiane Amanpour is now the Chief International Correspondent at CNN and ABC News' Global Affairs Anchor. She was born in London, raised in Tehran, and later moved to the United States to attend the University of Rhode Island, where she earned her journalism degree in 1983. She would also start her career in Providence, working at WBRU-FM and WJAR in the city.
Vladimir Duthiers has done it all as a journalist, winning two Emmy Awards, earning a Peabody Award, and working for prestigious networks like CBS and CNN. Before starting his career, however, Duthiers attended URI, beginning as a journalism major before switching to political science. He graduated in 1991 and now has an honorary doctorate from the university, as well.
Now the chief national correspondent at CNN, John King got his start at the University of Rhode Island, earning a degree in journalism from the school in 1985. Some of his professors helped get him an internship with the Associated Press, which led to him having full-time employment before he even finished his schooling.
Science and Academia
You have to go way back to find information on Daniel Aldrich, as he graduated from the University of Rhode Island with a Bachelor of Science in agriculture in 1939. Aldrich would go on to become the first chancellor of the University of California, Irvine and continued his service to that school until his death in 1990.
He might not be the biggest name on this list, but Robert Ballard's career has been incredibly influential. Ballard earned his Ph.D. in marine geology and geophysics from the University of Rhode Island in 1974 and would eventually discover the wreckage of the Titanic in 1985. He also discovered wrecks of the Bismark battleship in 1989 and the USS Yorktown carrier ship in 1998.
Military Alumni
Michael Flynn has been in the news recently because of his role as Donald Trump's National Security Advisor, his contact with the Russian government, and his subsequent FBI investigation. Prior to joining the military, Flynn graduated from the University of Rhode Island in 1981 with a Bachelor of Science degree in management science.
Best known as the United States Army General, Leon J. LaPorte graduated from URI in 1968. He would go on to become a Commander in the army for much of his career, earning multiple service awards in that time.
Doug Randall
Finally, our very own Doug Randall earned his Bachelor's of Science in Business Administration degree from the University of Rhode Island in 1972. While attending school, Randall was part of the University of Rhode Island Rams football team having played during all four of his years at URI.
From there, Mr. Randall would found Randall, Realtors in 1977, which is now the largest Rhode Island-based real estate firm and has offices in three states.
Mr. Randall remains a large part of URI's family, sitting on its Executive Board from 2004 to 2012 and contributing financially as a donor for over 25 years, along with his wife, Lorraine.
It should also be noted that Doug Randall is a second-generation URI grad, as his father, Herbert, completed his degree in 1940 and felt very strongly about the school and its traditions, supporting the university through his philanthropic efforts and encouraging Doug to attend school there.
As you have seen, Mr. Randall is in excellent company thanks to his URI degree.
Living Near the University
If you're thinking of buying real estate in Kingston or neighboring communities like South Kingstown, Narragansett, North Kingstown, or Charlestown, you will be pleasantly surprised by the volume of activities nearby. At the university, you can take in a sporting event or check out some of the area's history-filled buildings, while Narragansett and Charlestown have some of the region's top beaches and North Kingstown features the historic village of Wickford.
Even if attending the University of Rhode Island isn't in your plans, you can still take advantage of the amenities that the school and its supporters provide when you relocate to this historic and scenic part of the country.