Things to Do in Norwich, Connecticut
If you're looking at buying a home in Norwich, Connecticut, you should probably learn a bit about the area first, right? Luckily for you, Norwich has much more going on than you'd expect in a small city of about 40,000 people, as the downtown area is historic and the surrounding New London County has plenty of contemporary activities to keep you busy.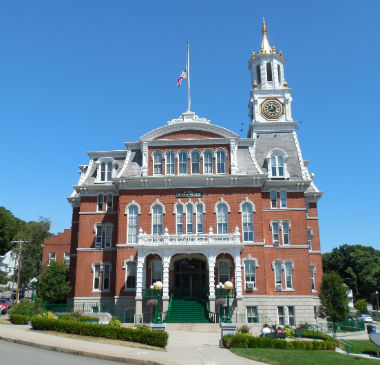 Norwich's downtown sits at the junction where two rivers, the Yantic, and the Shetucket, which is joined northeast of the city by the Quinebaug, come together to form the Thames River and flow toward the Atlantic Ocean. This strategic location is probably why the city is so significant historically, as the rivers made travel through the region much smoother.
Rumor also has it that the term "hello" was first written by the Norwich Courier newspaper in October of 1826, as well, so the next time you use that expression to greet an acquaintance, you've got Norwich, known as The Rose of New England, to thank.
Learn the History
There's a ton of history to explore in Norwich, since the city was first settled in 1659, starting with the Leffingwell Inn. The Inn, now known as Leffingwell House Museum, was built in 1675 and was the location of critical meetings during the American War of Independence. In fact, George Washington would occasionally stay and dine at the Inn, adding to its allure.
Slater Memorial Museum, sitting on the campus of Norwich Free Academy, is another historic building, having opened in 1888. It is home to plaster casts of some of the world's most famous statues, in addition to local artifacts and works of art from colonial times up until the 20th century.
The Mashantucket Pequot Museum and Research Center, a venue near Foxwoods Resort Casino, which we'll discuss later, is an immense museum with a life-sized replica of a village from the 16th century. The museum is mostly dedicated to the area's Native American history.
The Colonial Cemetery, which sits just to the northwest of downtown Norwich, is home to the graves of Hannah King Arnold, mother of Benedict Arnold, and Governor Samuel Huntington, the first President of the first Continental Congress. Walking through the graveyard, located behind Huntington's mansion, provides a fascinating look at the area's rich history.
Get Outdoors
Outdoor activities are abundant throughout this part of the country and Norwich is no different. Mohegan Park is an impressive green space with swimming, hiking, jogging, and fishing opportunities. A number of trails are found in the park, and there are open spaces, picnic areas, and a playground, as well. In short, Mohegan Park is a place where you can take the family for an entire day and never run out of things to do.
Just because Norwich is a little inland doesn't mean you can't quickly make your way to the ocean. Ocean Beach Park and Eastern Point Beach are only 30 minutes away, at the mouth of the Thames River. Ocean Beach Park has an outdoor pool and a boardwalk along the beach, while Eastern Point Beach is excellent for swimming and features a playground and picnic tables.
Stay Entertained
Of course, entertainment is essential, no matter where you live. The good news is that Norwich is surrounded by outstanding entertainment venues that you wouldn't expect to find outside of major cities. Less than eight minutes southeast of downtown Norwich, in the town of Mashantucket, is Foxwoods Resort Casino, a massive complex with hotels, restaurants, pools, shopping venues, and shows. There also a spa, golf course, bowling alley, and museum, so it's basically like a mini Las Vegas just minutes from the city.
That's not all for entertainment, however, as Mohegan Sun, another impressive complex with three casinos, an arena, a convention center, restaurants, nightlife, and shopping, just less than five miles from downtown. In short, living in Norwich means you'll be less than 15 minutes from two of Connecticut's largest entertainment venues, which for many is reason enough to make the move to this part of the country.
There is more than the glitz and glamour of these casino complexes in the region, as Senator Thomas J. Dodd Memorial Stadium sits within the city's northern limits. This stadium has room for 6,270 fans and was once home to the Norwich Navigators and Connecticut Defenders Double-A baseball teams. Today, the stadium is where the Single-A Connecticut Tigers, an affiliate of Major League Baseball's Detroit Tigers, play their games. MLB stars like Devon Travis and Eugenio Suárez played minor league baseball in Norwich in recent years, so it's worth heading out to a game because you never know who'll end up making it big.
Attend a Festival
Annual festivals are part of the way of life in Norwich, and the Rock the Docks Summer Concert Series is probably the most looked-forward-to of the bunch. Every Wednesday and Friday all summer long, Rock the Docks brings local, regional, and national performers to Howard Brown Park on the riverfront. Beer and wine are available for purchase, and every concert is unconditionally free to attend.
The Rose Arts Festival returned in 2017 after a nearly 20-year hiatus and appears to be back for good. The festival features music, vendors, and art displays, in addition to both 5K and 10K runs. It all gets started bright and early at the Chelsea Parade Historic District, before moving to the downtown area at night. The 2018 version of the festival takes place on June 30 and acts as a warm-up to the Independence Day festivities that are sure to follow.
Sample Some Food and Drinks
Just because Norwich is a small city doesn't mean it lacks in big city amenities. Epicure Brewing and These Guys Brewing are craft breweries that are mere steps from one another, each of which provides a choice night out or an excellent stopover for lunch. The breweries have impressive menus and often host events, as well. Harp & Dragon Pub is another favorite local spot with dozens of beers on tap and a uniquely Irish atmosphere inside.
Plenty of other dining options are found in the city, depending on what you're in the mood to eat. Lazizah Bake Shop is a renowned place for lunch, as their soups, sandwiches, and wraps are extremely tasty, while Bella Fiore serves exceptional Italian cuisine, Mi Casa is an outstanding Mexican restaurant, and Canggio has American classics with a Peruvian twist.
See the Blend of Past and Present
As you can see, Norwich has a distinct and very powerful history, but it also has the modern amenities that help make its residents comfortable, both in the city and the surrounding New London County. If buying a home in Norwich is something you're actively considering, you can be confident that you'll always find things to do in the area.